Painting Inspiration
If you've ever done a renovation project yourself, you've might have heard of a useful type of paint known as chalk paint. Similar to Cottage Paint, Chalk paint is a type of paint that you can use on furniture and a variety of other items that give it an appearance of chalkiness.
Chalk paint is popular thanks to its ability to stick to almost anything. None of your furniture needs to be prepped, which means you don't need to sand the wood or remove the varnish. You'll want to make sure the surface is clean though, so go over it with a degreaser.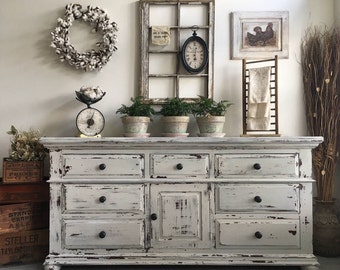 Chalk paint is also extremely versatile. It allows you to customize the way your furniture looks, so you can have it looking old and worn or pristine and new. It's a type of paint that is very easy to distress, allowing you to get a chic, vintage look out of your furniture. If you're not going for the vintage look, you can simply wax the furniture you've painted. It won't give the appearance of a high shine but, instead, a nice lustre. If you're planning on using the surface often, it is recommended that you wax the surface.
There are many companies that make and sell chalk paint so finding the best chalk paint around can be a hard process.  The things you need to consider when looking into getting chalk paint include what's the best colour range, how much you need, and whether or not you should just make the chalk paint yourself or buy it.
Best Chalk Paint Colors
There is a range of chalk paint colours that are offered by many companies. A common colour they offer are shades of off-white. Other popular shades include a variety of blues, greens, pinks, and greys. Many of these chalk colours come in varieties of pastel. They're perfect for getting that cool, vintage vibe out of your room or piece of furniture.
For those who like more of a pop of colour, never fear. There are quite a few brands that have unique, bright colours that would be perfect for making your barstools or end tables into statement pieces.
Do It Yourself or Buy?
The price of chalk paints varies but, for the best chalk paints, the cost can really get up there. For those operating on a tight budget, it is possible to make your own chalk paint. You can find a bunch of recipes throughout the internet, but it comes down to mixing plaster of Paris with hot water and paint. The only problem with doing it yourself is that it's difficult to get a smooth, consistent texture with chalk paint.
How Much You Need
A lot of containers sold from different brands come in fluid ounces and a quart or two. Those who are using chalk paint for the first time might not believe that such little containers could be enough for whatever big project they have in mind. A little goes a long way though. Try just buying one container for your project and see how far it goes before purchasing more.
The Brands and Bottom Line
These tips should help you decide what option for chalk paint is the best for you. For those looking for the best chalk paint in the Brantford area of Ontario, Mayfair Paint N Paper carries all of your needs. Our Cottage Paint chalk paint collection is some of the best around and can make your furniture look like new…or vintage, however you like it. Contact Mayfair Paint n Paper today to discover our selection of chalk paints!